Moot courts are one of the most enthusiastic curriculums that a law student encounters while in law school. When you join college, you always come across seniors, who catch your attention because of the wonderful orators that they are and that eventually inspires you to find out more about moots.
Participating in the moot courts is the best way available to you to groom yourself in the field of our noble profession. It hones your written and advocacy skills and definitely raises the bar and stimulates the confidence. So, it is really important to learn and brace yourself with the appropriate technique and knowledge before landing into that horizon.
Choose your team wisely
Having a compatible team is perhaps the most important thing in a moot court. It is an observed fact, that if you have a harmonious relation with your team members, it tends to boost up your performance and result.
Remember, that your whole moot experience can be a big fail, if there is a friction in your team. The researcher and the speakers must co-ordinate effectively to remove the chances of underperformance and the consequential bickering and the blame game.
Another important thing that you must practice is appreciation. It is really important to appreciate your partner's effort. Never take the entire credit for the any success and achievement. It is always the TEAMWORK.
Exhaustive research
Vast and extensive research on the entire matter is definitely essential. Most of us are not well aware of the same, but trust me, going extempore in front of the judges is a really bad idea.  Make sure you have a good one month period before your moot. It gives you ample time for the research and helps you get thorough with the moot problem.
You must also analyze the issues and figure out multiple answers for them. Keep more than one perspective and increase your analytical skills to make it through the grilling session.
Keep the argument brief and summarized
There is nothing more impressive than presentation of summarized arguments that you wind up well within time. Practice and prepare thoroughly before the final day of moot. It helps you manage with the time limit allotted to you.
Nobody like lengthy and non-stop blabbering. Do not stretch your argument with baseless points. Remember, most moots have time stipulations and the judges penalize you where time is wasted and you overshoot the time for reasons other than answering their questions.
Dress sharply in proper formal attire
It would not be wrong to say that appropriate dressing brings about a whole lot of difference in the overall presentation. You must dress up sharply in your black and white formals and a black blazer. Also if you have a tie, check for that knot.
If you are a girl, avoid wearing ethnic formals (black and white kurta). It is true that technically Indian formals are allowed in the moots, but you cannot deny that western attires add charm to your personality and give you a sharp look.
It is always better that your entire team dresses up in a similar code. It leaves a good impression on the panel.
5. Sound like you care ! No. Do Care. 
While putting forward an argument in front of the judges, it is very important that you sound convincing. There is a huge difference in just speaking out your point and making it substantial. This is where you bring out your oratory skills into practice. The voice modulation is an essential game here.
Even if you think it's the most boring issue in the world, the judges should never sense that. You should sound like you care.
Answer questions directly, completely and immediately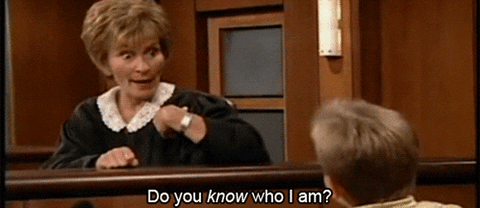 As and when the panel of judges shoot the questions over you, try and keep your answers simple, brief and to the point. Use plain English, not pretentious expressions or legalese. For being able to give a flawless answer, you should have in-depth knowledge of your moot problem.
Nothing is worse than seeming flustered after a question from the bench, and nothing looks better than giving a great answer to a question that the judge think will stump you.
Familiarize yourself with the major legal and factual points of your case.
Keep your notes and references handy
There are chances that the judges might be from the same branch of law professionally, as is the moot problem. In such a situation, you must have a hold of the questions raised by them because they have vast experience in the field. Use reference cases and judgments to aid your answers.
At the very least, you must be in a position to understand how this case applies to the moot problem, how the facts are similar or different and how the court must ultimately rule.
Keep a sheet of paper with you on the podium and mention major points in it for a quick reference. Never make word to word note of your argument.
Participating in moots not only increases your knowledge but also makes you an indulged and enhanced researcher. You are required to do a lot of reading and information mining. This ultimately helps you in the longer run.